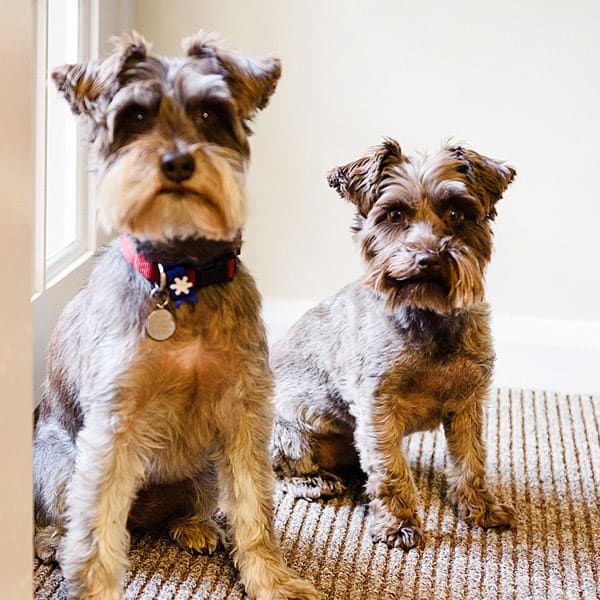 Who's behind Dora's Door… Woof!
Inspired by our lovable canine companions, Dora's range of Dogs continue to inspire Angela's designs. From Scottie Dogs to Airedales, Westies to Pugs and Dachshunds to Spaniels Dora's range of dogs will not disappoint!
Recognised as a nation of dog lovers, team Dora are no different!
Meet the Dora Dogs…
Name: Bear
Breed: Miniature Schnauzer
Nickname: Bear Bin
Age: 9 years old
Human: The Stevens Family
Profession: Accountant (Mr Sensible)
Bio: Bear was from a litter of 6 all named with the first word "sugar" – for example Sugar Puff, Sugar Plum and Sugar Bear. This was shortened to Bear after a couple of months. Bear is a very sensible chap and can always be found in the middle of a group of dogs sorting them all out. He was very industrious in his younger days joining Mark on anything up to 12 mile runs (which with all the running backwards and forwards was probably 18 miles for Bear). He has also walked the Yorkshire 3 Peaks, The Fairfield Round, Skiddaw, Goat Fell on the Isle of Aaron and many more which for a little guy is no mean feat. He does like to take is easy most of the time and snuggles up on the settee – That was until Teddy arrived four years ago.
Dora Twin: Sugarbear Schnauzer design in The Canine Collection was based on handsome Bear. He remains one of Dora's best-selling products and is available in a Draught Excluder, Doorstop, Paperweight and Key Ring.
Name: Teddy
Breed: Toy Schnauzer
Nickname: Freddy
Age: 4 years old
Human: The Stevens Family
Profession: Causing Chaos
Bio: Teddy is related through her mother to Bear though you would never know it. This loveable little monster can cause more chaos in an hour than a pack of Wolves in a week – you could not believe that so much naughtiness could transmit from such a tiny bundle. Now 4 years old she is improving and her and Bear have become great friends with Bear being so protective over her.
Dora Twin: Joining the Dora family four years ago Teddy's Dora twin would have to be one of the many successful Schnauzer products. Although very similar in size to Sugarbear doorstop unfortunately she would never sit still long enough to keep any door propped open!